Musique Rebelle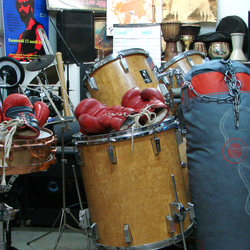 A proposal by La Boîte à Musique and Cabaret Aléatoire.
Created in 2007 by drummer Ahmad Compaoré, MUSIQUE REBELLE (Rebel Music) is a multidisciplinary event designed as a festival that took place until 2013. The concept was born of the jam sessions organised by La Boîte à Musique and held at the Friche la Belle de Mai in Marseilles. A place of gathering for musicians from the new local jazz scene, where artists and public set aside a moment to exchange.
The project took shape around the repertoire composed by Ahmad Compaoré and a part of improvisation for which an artistic direction soon became necessary: Ahmad set up a work method based on reflex, listening and skilful codes of conduction which allow to go beyond sheer technique to give an interpretation. Indeed, here is the real contemporary music, alive and mutant. Urban rhythms and world cultures sustain the energetic swing, in constant (r)evolution. In a dynamics of creation and rebellion, art establishes itself more than ever as a resistance and a struggle. Let's meet to forge our own effervescent music...
MUSIQUE REBELLE is established as an atypical event dedicated to collective creation beyond styles and genres (music, dance, visual arts, urban cultures, new technologies) gathering artists from the local music scene and discovery of new talents, on the basis of one yearly edition (in springtime or autumn).
Keep your spirit sharp, your eyes peeled... and be all ears!
With the support of Friche la Belle de Mai, Mosaika TV, Radio Grenouille and Digitick.
Copyright © 2023 Ahmad Compaoré | Musique Rebelle.