Musique Rebelle - Round 9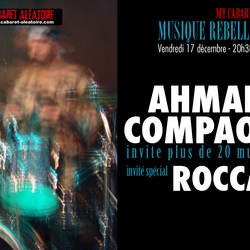 "THE BIG ROOM OF FREE JAZZ"
Cabaret Aléatoire, Marseilles - 17th December 2010
A proposal by La Boîte à Musique and Cabaret Aléatoire with the support of Friche la Belle de Mai, SelfWorld, Le Cri du Port, l'AMI, Saba and Radio Grenouille.
Ahmad Compaoré invites 30 artists + special guest ROCCA
This 9th edition will focus on musicians and their identity as musicians from Marseilles, which means multiple and diverse. « We are all convinced that the forms of jazz music must be developed in order to be consistent with the artistic, cultural and social situation... » «...This is why our will to use our artistic efforts as a springboard to express our human, social and political claims is very natural ». This claim of identity is partly expressed by a return to the roots of Black music, through blues, the preeminence of percussion, the introduction of free jazz and the use of instruments in an "African" manner.
« Music is the Healing Force of the Universe »
Albert Ayler
THE ARTISTS:

Special guest: Rocca (Parcero Production & El Original Music Publishing / US)
Ahmad Compaoré (drums, artistic direction), Stéphane Mondésir (keyboards, programming), Wim Welker (guitar), Sylvain Terminiello (electric bass, double bass), Fred Pichot (sax), Fabien Genais (sax), Christophe LeLoil (trumpet), Adila Carles (voice), Denis Chauvet (bass), Laure Bonomo (violin), Kouly Barry (percussion), Julien Bayle (laptop, programming), Oncle Bo and Chica Underground (DJ set), Gari and DJ Kayalik (Massilia Sound System), Julian Demoraga (voice), Manu Théron (voice, bendir), Jean-Marie Guyard (voice), Ambo (voice), Ahamada Smis (spoken word), Sibongilé M'bambo (voice), Sarah Moha (flamenco dance), Ivan Chabanaud and Gaël Cobert (video, digital processing, live streaming), Andrew Argent (freestyle football), All Styles Crew (hip hop), Christian Ducasse (photography) and surprise guests...
Copyright © 2022 Ahmad Compaoré | Musique Rebelle.