Musique Rebelle - Round 1 to 4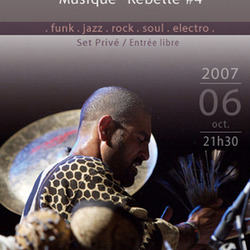 The first 4 editions of MUSIQUE REBELLE took place in the convivial space of the studio La Boîte à Musique, located at the Friche la Belle de Mai in Marseilles. The events were informal, free, open to anyone, professional musicians as well as amateurs and music lovers. Quickly,thanks to an efficient word of mouth, public attendance increased and soon the small studio was not spacious enough to hold the audience.
- Round 1: on 20th January 2007
- Round 2: on 7th April 2007
- Round 3: on 22nd June 2007 (with Kwani Experience)
- Round 4: on 6th October 2007
Copyright © 2023 Ahmad Compaoré | Musique Rebelle.