Compaoré & Laju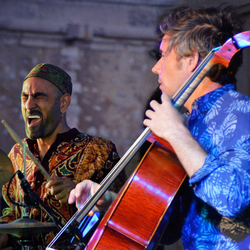 An ethereal and melodic jazz, sustained by a rhythmic bond developed over the years by two musicians with singular backgrounds through their musical experiences together. Unclassifiable: contemporary sounds, Oriental rhythms, gentle touch on the strings, scratching on the drumheads, haunting melodies, overcharged percussion... From the shores of the Mediterranean Sea to the steppes of Central Asia, the encounter between these two identities with different easthetics truly makes all the richness of Jazz.
AHMAD COMPAORÉ: drums, percussion
Of Egyptian and Burkinabé origins, Ahmad Compaoré is an unmissable musician. With feet, fists and hands, he hits, strikes, whips and strokes the brass of his cymbals and the skin of his drums where power and freedom make up the essentials of his playing. He confirms his singular talent alongside Fred Frith, Marc Ribot, Jamaaladeen Tacuma, Barre Phillips, Camel Zekri or Egyptian choreographer Karima Mansour. Twice recipient of the Culturesfrance "Hors Les Murs" award, he lived in India and Japan as part of residencies of creation. Free from boundaries, he equally enjoys the most extreme experiences in alternative and improvised music, jazz and fusion. Involved in many projects, he is currently a drummer within Lucky Peterson's quartet.
VINCENT LAJU: cello, electronics
Gold medalist graduate from the Conservatoire d'Aix-en-Provence in jazz double bass, Vincent Laju extended his training with sound classical studies. His taste for jazz and interest for improvised music led him to perform in different aesthetic contexts: jazz, Gypsy music, African music, free jazz and experimental music with musicians such as Jean-Paul Florens, Ahmad Compaoré, Jean-Jacques Gristi, Jean-François Bonnel or Raphaël Imbert. He is particularly interested in the transdisciplinarities having worked in the fields of theatre, circus, dance and recently photography. Composition and arrangement are an important part of his musical process: in 2012 he creates Zoun, a multifaceted ensemble for which he writes a kind of music opening on various modes of improvisation. Through his sound research, he has moved towards the practice of the cello with which he develops a personal approach, creating music and textures.
Copyright © 2022 Ahmad Compaoré | Musique Rebelle.